Description
Includes: 1 Charcuterie Board  Large Sized Tray
14 1/2 inches long
10 1/2 inches wide
0.75 inches depth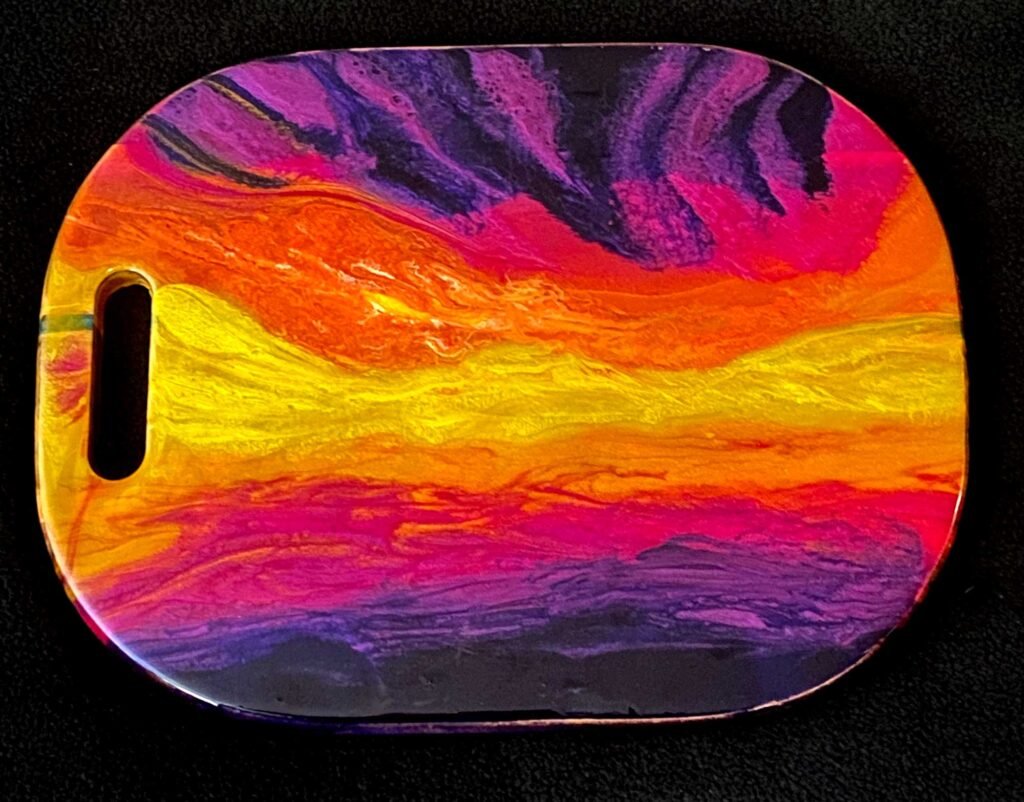 Inspiration:
Introducing the Cabo San Lucas Sunset Dream Series: a collection of exquisitely hand-colored tray that whisk us away to a realm of wonder. As I envision gazing upward, I'm enveloped by a breathtaking tapestry of Fuchsia, Tangerine, and Brilliant Yellow hues, harmoniously blending with the depths of rich purples across the sky. The allure is so irresistible that even closing my eyes proves challenging; the magnificent vista of the brilliant sky continues to captivate and mesmerize, making each moment a wondrous journey of the senses.
Description
This is a color inspired functional piece of art.
Protected with food-grade natural oil. It can be used as a cutting board or charcuterie tray. Please avoid cutting over the resin area as it could damage the design. Instead, to use as a cutting board, place it on top of a kitchen towel with the design facing down.
Made with renewable natural and high quality wood.  Easy to clean and maintain.
Each creation is individually designed, as such, each item will be unique and not exactly alike.
CARE:
Made with high quality resin and pigments. Although it is UV resistant, this piece is designed for INDOOR use. Avoid extreme temperatures.
Wipe off any food particles. Wash quickly with hot soapy water. Dry immediately. Do not microwave, wash in the dishwasher, or submerge in water.
Epoxy-Resin-Charcuterie Board Tray – Sunset Themed