Charcuterie Butter Board
This butter board charcuterie is an amazing option so you don't have to serve every single accoutrement separately or worse, manually assemble each piece for your party. You get the best of both worlds!
You can make your board ahead of time and refrigerate. Allow enough time for butter to come to room temperature so everything is dip-able/spreadable for your party
Start with a wooden charcuterie board, softened butter and flakey sea salt and let your imagination go wild! Our recipe provides three different spins on this trend. A sweet and spicy Asian-inspired board, a sweet (brown sugar) board and a board made with mascarpone cheese if you want to stray a bit from the traditional.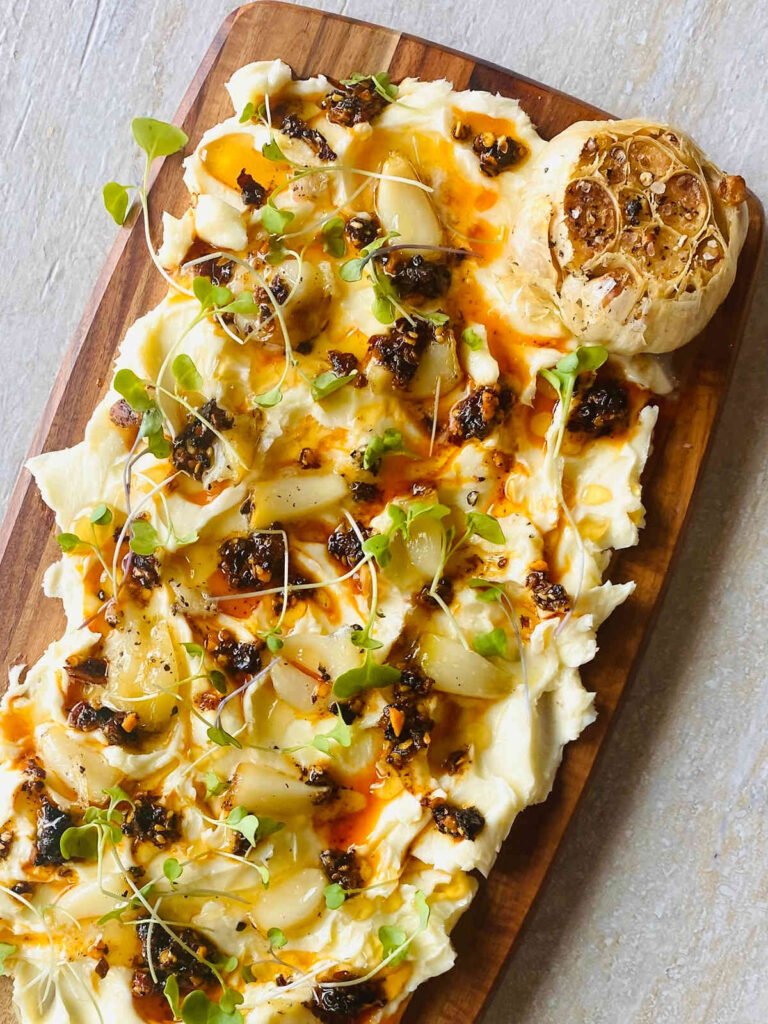 BUTTER BOARD BASICS
Butter:You can use salted butter or unsalted. Adjust your flakey salt accordingly.
Salt:I recommend flakey salt. You can also add black pepper if desired.
Garlic: Roasted fresh garlic.
Chili Oil: You can use garlic chili oil or homemade chili crisp.
Honey
Cashews: Optional.
Micro Greens: Micro greens or thinly sliced scallions.
French Bread: French bread or other bread of choice.
Spread butter on wooden charcuterie board. Butter should be soft but not melted. Apply in swirls to add visual appeal.
Optional: Use parchment paper if you don't want to get your board dirty.
Sprinkle flakey sea salt on butter.
Layer selected toppings on butter.
Serve with bread or crackers.
How to Roast Garlic: Cut off top of garlic head. Drizzle with olive oil, salt and pepper. Wrap in aluminum foil and bake at 400°F (preheated oven) for 30-40 minutes or until the cloves are lightly browned and feel soft when pressed.