S'mores Charcuterie Board Ingredients & Supplies
Spreads – Salted caramel, Nutella, and peanut butter
Variety of cookies (1 pack of each) – Lotus, Chocolate Chip, Oreos, Wafers, and Graham Crackers.
Marshmallows (1 bag of each) – giant marshmallows, standard marshmallows, and mini marshmallows.
Chocolate – Hershey's milk chocolate, Hershey's Strawberries and Cream, Reese's Peanut Butter Cups, Hershey's Kisses, Chocolate covered pretzels.
Fruit ( 1 cup of each) – Strawberries and blackberries
A heat source to toast the marshmallows
Bamboo sticks
A large board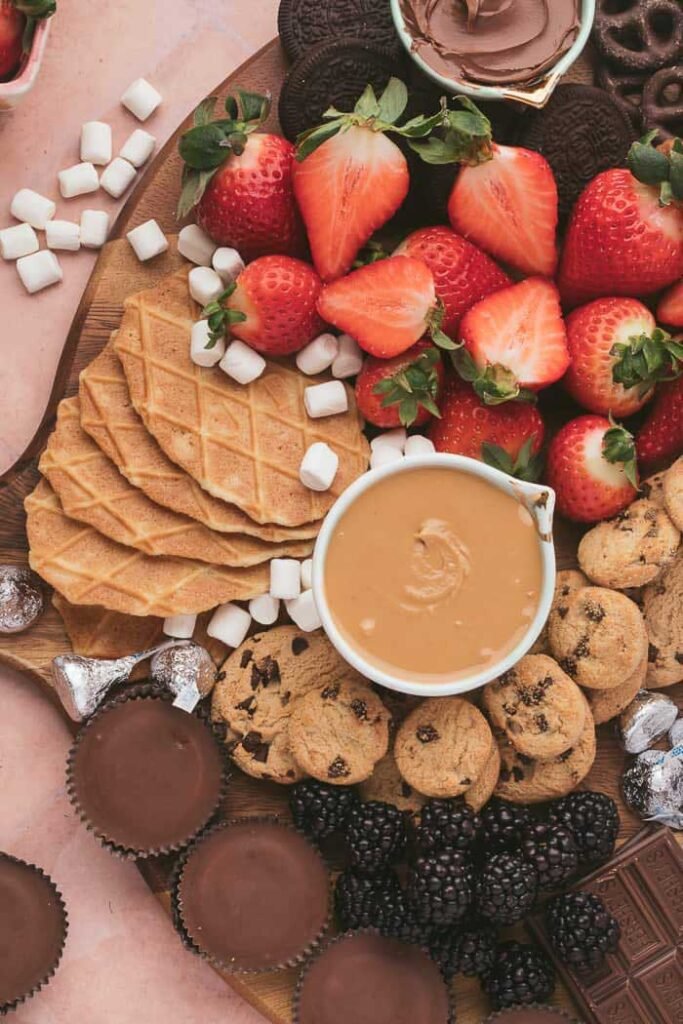 How to Make a S'mores Charcuterie Board
The first thing you need is a board. If you want to be traditional you can use any wooden board, cutting board, or piece of slate.
A platter also works great. You need a few small glass bowls to place around your board for spreads and sauces.
Put those around the board with space between them for your goodies.
Place your cookies in a row around your board first.
Spread your marshmallows, chocolate, and fruit around the board in piles.
To roast your marshmallows you do it by the campfire if you choose or with a portal burner (make sure to do this yourself and do not allow children to roast unsupervised.
Select a cookie, top with your toasted marshmallow, add any spread or chocolate you prefer, and smoosh with another cookie.
It's that simple! Swap out any ingredients for stuff your family prefers and make it your own!
These boards are so fun because you can get as creative as you want and cleaning up is a breeze.
Except for those little sticky fingers and faces. S'mores Charcuterie Boards are truly a hit for any occasion.