Charcuterie Brunch Board
What to put on a breakfast or brunch charcuterie board
Great question. Traditional charcuterie would include a number of different cold meats, plus cheeses and jams. But for this sweet Easter breakfast version, I like to think outside the box. Try adding these to your breakfast platter;
Base components:These are things like pancakes, muffins, scones or crumpets.
Condiments:Add things you'd love to serve on each of the bases like butter, maple syrup, honey, jams.
Toppings / Fillings:Add some cooked bacon or cheese to top or fill. If you want to create a true charcuterie board, add a few different cold meats.
Fresh fruit:Use a number of different fruits so everyone can find something they love. Grapes and berries are easy but slices of orange or watermelon are also refreshing.
When choosing your base components, try to add things that are easy to make and / or can be made ahead of time.
English Pancakes – reheating them in the oven right before serving is very simple
Homemade Crumpets –these can be made ahead and frozen up to 2 months. Thaw the night before then toast right before serving.
Chocolate crumpets – an even more decadent version of the classic.
Hot Cross Buns – as per crumpets, you can freeze these, thaw the night prior, then toast before serving.
Danishes – use my easy danish pastry and make these custard danish pastries ahead of time so you can just bake them on the morning.
Many breakfast treats can be frozen and thawed very successfully so you can make things weeks in advance. All you'll need to do on the day is toast or reheat.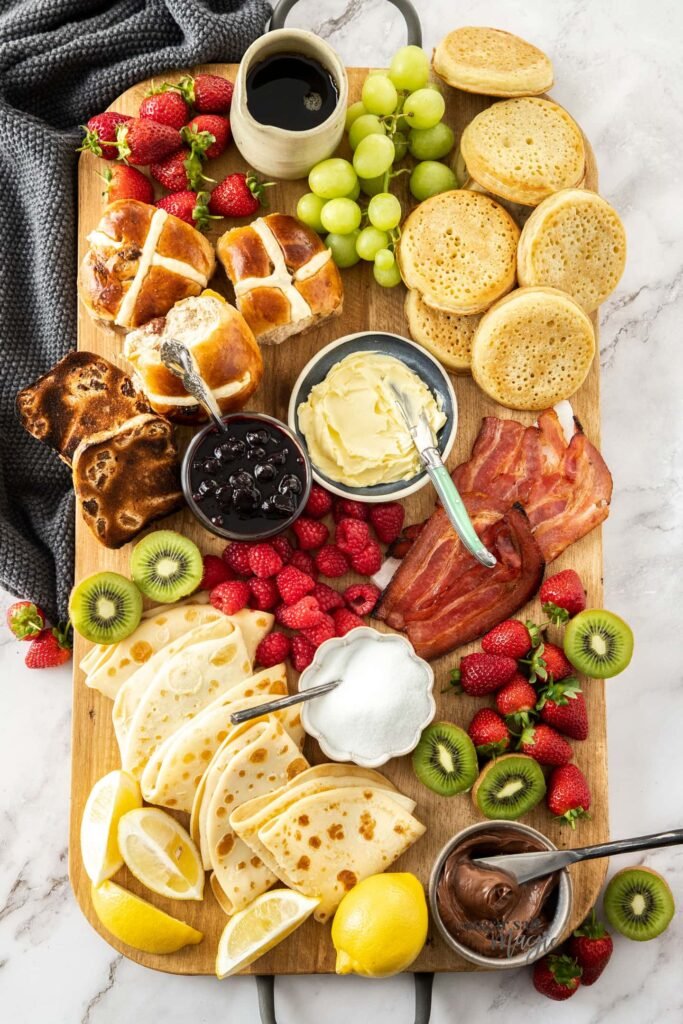 If you're having a large gathering, be well prepared and have a couple of toasters on hand or the overhead grill / broiler preheated so you can toast everything up quickly
Ingredients
1 batch homemade crumpets
1 batch English pancakes
1 batch cranberry white chocolate hot cross buns
1 batch blueberry compote
10 slices bacon
Fresh berries
Kiwi fruit
Green grapes
Butter
Nutella
Sugar
Lemons
Maple Syrup
Instructions
Make the crumpets and hot cross buns up to 2 months ahead and freeze until required. Thaw overnight.
Make the pancakes 2 days ahead and keep the stack covered in the fridge until required.
Make the blueberry compote 2 days ahead and keep in a sealed container in the fridge.
On the day, preheat your overhead grill / broiler and have your toaster at the ready.
Heat the pancakes in the oven until warmed through. Toast the crumpets and hot cross buns. Cook the bacon in a pan or under the overhead grill / broiler.
While that's all happening start laying out the condiments on the board.
Add the base components as they are ready.
Add the fresh fruit last, filling in all the gaps.