Building a Charcuterie Board: Where Do I Start?

Though there are many easy charcuterie board ideas out there, the process is somewhat formulaic. Start by adding structure with little dishes, then place your ingredients on the board starting with the largest elements like the cheeses and meats, followed by smaller items like crackers and fresh produce.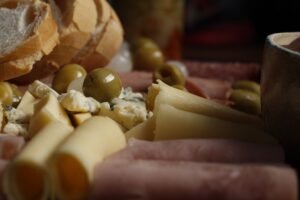 Step One: Add Structure
Fill small vessels with dips, spreads, and items that can be piled onto the board. Try honey, mustard, cornichons, blue cheese-stuffed olives, or a mixed selection of salted nuts
Step Two: Add the Cheeses and Meats
First, place the cheeses. Arrange them evenly around the board and allow space for slicing and scooping. We used two kinds of Brie (a robust, creamy Brie and a mild Brie), blue cheese, an aged cheddar, and goat cheese on this board. Next, add the meats. We placed the prosciutto, Italian salami, and American salami in little piles next to the cheeses. It's OK if items on the board touch; they're meant to be enjoyed together.
Step Three: Add Crackers
Slip two or three small stacks of sliced bread or crackers among the bowls, meats, and cheeses. Let them topple over and get a bit messy—it's part of the board's beauty. We used two kinds of crackers— asiago cheese and flax seed—to complement the various flavors on the board.
Step Four: Add Fruits, Veggies, and Herbs
This last step is the icing on the cake. Fill in any gaps on the board with fruits, vegetables, and sprigs of herbs. We used whole radishes, sliced figs, red grapes, and thyme. If you don't have fresh items available to you, sub in dried fruits like apricots, cherries, and plums for something sweet and chewy. When your board is finished, set it out with a few cheese knives so guests can help themselves after they marvel at your masterpiece. Enjoy!